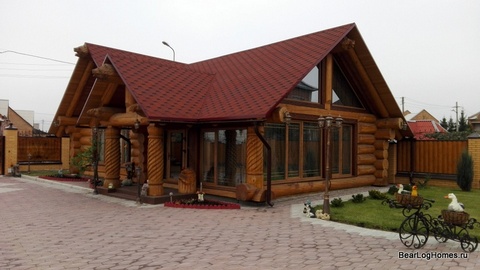 Bath cedar "Babik"
Characteristics of a log house from a cedar "Babik"

species for log house
Siberian cedar
diameter of a cedar log

50 cm or more

lognotcing
Russian
floor plan
6 x13 meters
log transport (number of trucks)
2 flight
You can buy a bath of cedar by selecting one of the options of sets
Included in the price

manufacturing of log cabin (labor and logs);
marking of the log house before loading;
loading of elements log cabin into transport vehicles to the foundations of the Customer.

The price includes:

works and materials included in the "In the car" package;
work and sawn timber for the arrangement of "independent floor";
assembly of logs on the foundations of the customer;
metal fasteners;
log`s insulation;

The price includes:

Works and materials included in the "On the foundation"
work and timber on the device truss system

In the company "Bear log - good houses of cedar" can take responsibility and build a house and a "turnkey" bath. The cost will largely depend on the installation of foundations, the choice of finishing materials for floors and roofs, as well as the provision of equipment for life support.